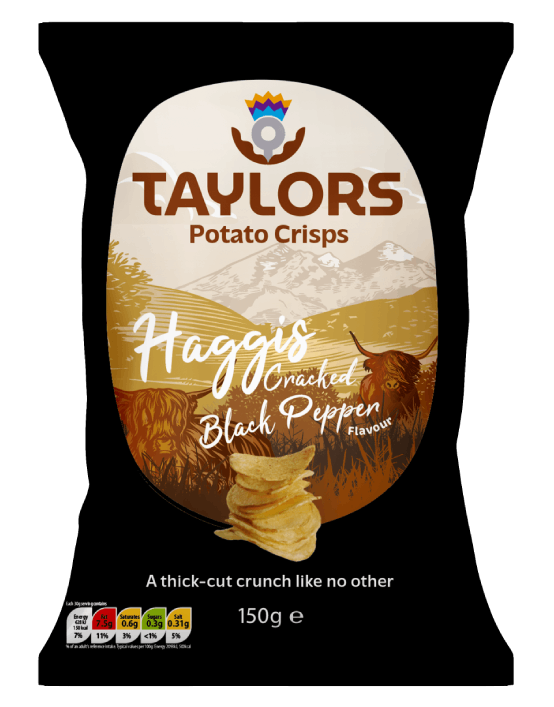 Haggis & Cracked Black Pepper Flavour Potato Crisps
All hail the mighty haggis. These crisps are the peppery highland fling your tastebuds didn't know they needed. Each Haggis and Cracked Black Pepper crisp is a mini bellow of savoury delight, jazzed up by a punch of cheeky spice. Your tongue will be doing its own jig in no time. Get ready for our local hero of a snack, that's more fun than a ceilidh in a castle.
Ingredients
Potatoes, High Oleic Sunflower Oil, Haggis & Cracked Black Pepper Flavour Seasoning (Sugar, Yeast Extract Powder, Black Pepper, Coriander Seed, Pimento, Fortified Wheat Flour (Wheat Flour, Calcium Carbonate, Iron, Niacin, Thiamin), Sea Salt, Yeast Powder, Onion Powder, Rusk (Fortified Wheat Flour (Wheat Flour, Calcium Carbonate, Iron, Niacin, Thiamin), Salt, Raising Agent: Ammonium Bicarbonate), Natural Flavouring, Malted Barley Flour, Acid: Citric Acid, Onion Juice Concentrate, Oat Flour).
Allergen Information
For allergens see ingredients highlighted in bold.
May contain Milk.
Nutritional Information
| | Typical values per 100g | Values per 40g serving |
| --- | --- | --- |
| Energy (kJ) | 2144 | 643 |
| Energy (kcal) | 513 | 154 |
| Fat (g) | 27 | 8.0 |
| of which saturates (g) | 2.2 | 0.7 |
| Carbohydrate (g) | 58 | 17 |
| of which sugars (g) | 1.9 | 0.6 |
| Fibre (g) | 4.3 | 1.3 |
| Protein (g) | 7.0 | 2.1 |
| Salt (g) | 0.8 | 0.24 |
Additional Information
Suitable for Vegans. Available in 150g packs.
You can recycle this pack at large supermarkets.
Our signature crunch
"Some people ask us why we make our crisps with a different texture. We then ask them; why would we want to be the same as everyone else…? By cooking our terrific tatties gently and cutting them a wee bit thicker, we've mastered a unique crunch that keeps people coming back for more. Some say our straight cut crisps remind them of 'how crisps used to be'. Others tell us there's 'less grease, so less guilt!' Whatever you're after, a tasty bag of Taylors usually has all the answers you need."
James Taylor – Managing Director & 'Pickled Onion Fanatic'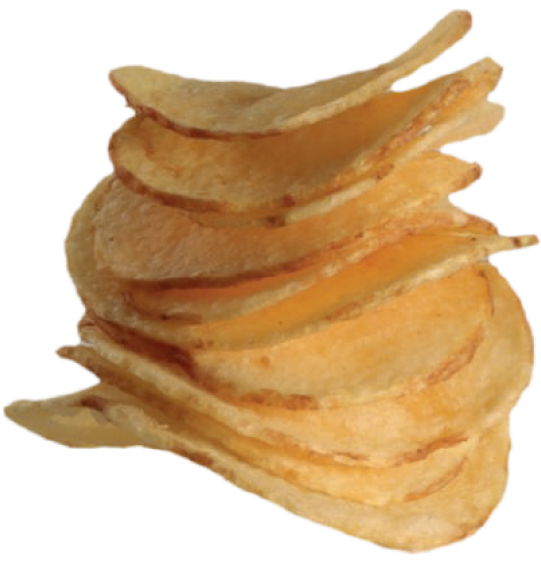 Give us a shout
We'd love to hear what you think about our crisps, popcorn and lentil waves. Don't be shy – we won't cry, or say goodbye. Your feedback helps us make better snacks.
We can also send you regular updates via Crunch Time, our bite-sized newsletter – if you're game, make sure you tick the box.
If you're interested in how we manage your data, please check out our privacy policy.