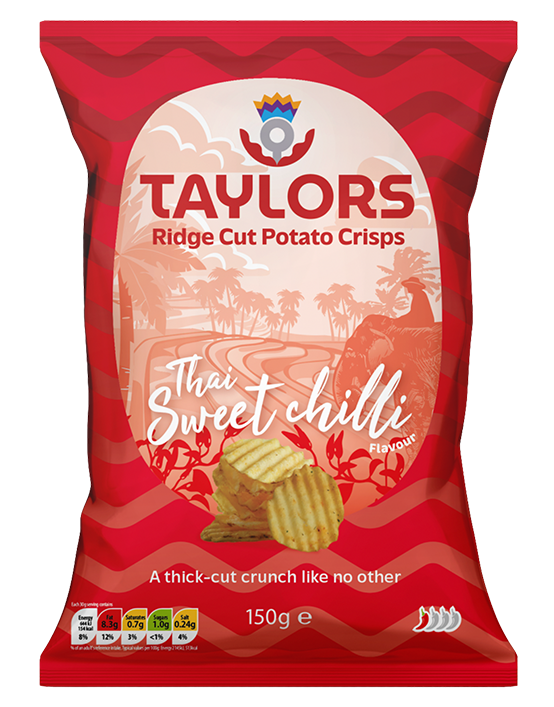 Thai Sweet Chilli Flavour Ridge Cut Crisps
"These are SENSATIONAL", is what you'll normally hear when someone whips out our Thai Sweet Chilli ridge crisps. These spicy beauties will transport you to the chilli farms of Isaan, Thailand. Our unique and fragrant sweetness blends warming spices that pack a punch. A dipping dream with sour cream.
Ingredients
Potatoes, High Oleic Sunflower Oil, Thai Sweet Chilli Flavour Seasoning (Sugar, Salt, Yeast Extract Powder, Cayenne Pepper, Ginger, Fennel Seed, Paprika, Garlic Powder, Onion Powder, Natural Flavouring, Basil, Parsley, Colour: Paprika Extract, Tomato Powder).
Allergen Information
May contain: Barley, Gluten, Oats, Wheat and Milk.
Nutritional Information
| | Typical values per 100g | Values per 40g serving |
| --- | --- | --- |
| Energy (kJ) | 2145 | 644 |
| Energy (kcal) | 513 | 154 |
| Fat (g) | 28 | 8.3 |
| of which saturates (g) | 2.2 | 0.7 |
| Carbohydrate (g) | 58 | 17 |
| of which sugars (g) | 3.3 | 1 |
| Fibre (g) | 3.7 | 1.1 |
| Protein (g) | 6.3 | 1.9 |
| Salt (g) | 0.8 | 0.24 |
Additional Information
Suitable for Vegans. Available in 150g packs.
You can recycle this pack at large supermarkets.
Mountains of flavour
"There's just something about that ridged shape, that means it holds on to flavour better. We have a lot of fun each year coming up with new and unique flavours for our ridge cut crisps. Sometimes you can just picture that perfect flavour in your head – that's usually how it starts! Then we work with our tastemakers and flavour wizards to craft the perfect combination of natural ingredients. From there, we take it to you – our customers – to see what people think."
Sandra Nell – New Product Development Assistant and 'Sea Salt & Cider Vinegar Slayer'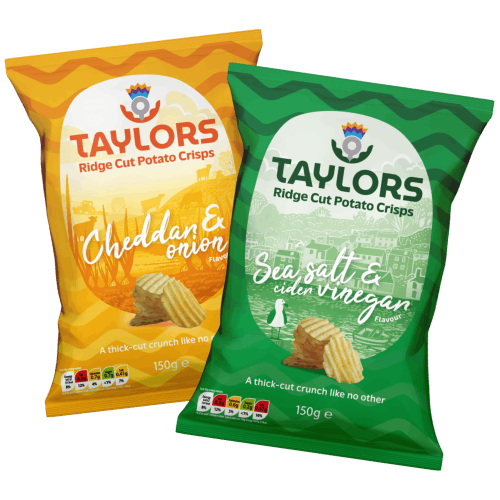 Give us a shout
We'd love to hear what you think about our crisps, popcorn and lentil waves. Don't be shy – we won't cry, or say goodbye. Your feedback helps us make better snacks.
We can also send you regular updates via Crunch Time, our bite-sized newsletter – if you're game, make sure you tick the box.
If you're interested in how we manage your data, please check out our privacy policy.