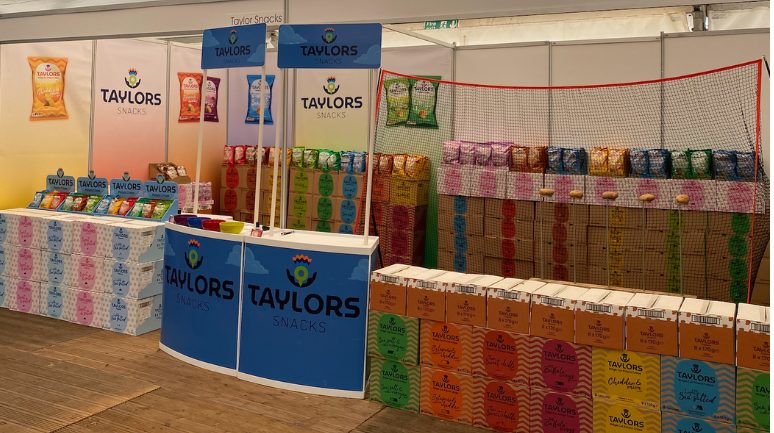 Where Farm-Fresh Fun Meets Flavour way up in North Scotland!
We had a blast at the Turriff Show this year, and just couldn't wait to tell you all about it. If you missed out on the fun, don't worry – we've got you covered.
The Turriff Show is one of Scotland's most celebrated agricultural events, and we were thrilled to be a part of it in 2023 – our first time since the rebrand. Our team believe that building strong connections with customers is essential. Being up in 'Turra' as they say, provided the perfect platform for us to engage with snack enthusiasts and foodies alike. We loved hearing feedback, learning about people's favourite flavours, and understanding what makes everyone smile when they reach for a bag of Taylors Snacks.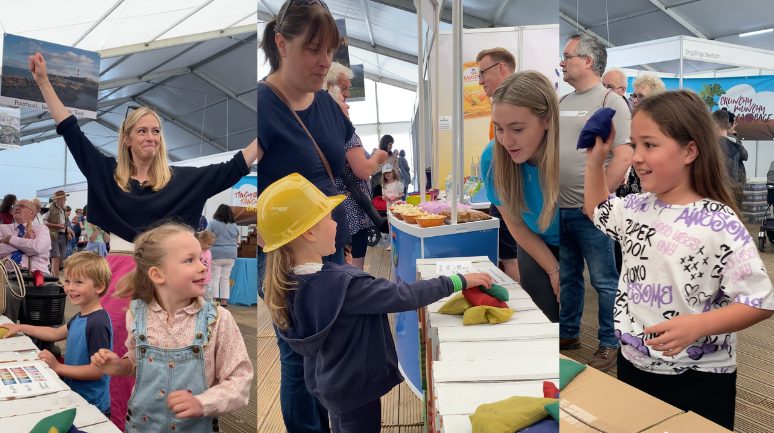 We believe that life's too short to be serious all the time. That's why we decided to add a dash of playfulness to our stand. At our booth, we set up the now world-famous Taylors Tattie Shy, a throwback to the good ol' fairground days. The aim was simple – knock down the tatties, win some goodies, and have a whole lot of fun doing it!
Folks of all ages got in on the action, and there were laughs aplenty! Parents competed against their kids, friends challenged each other, and the playful spirit was infectious. Our Tattie Shy was a hit – just like it was at The Royal Highland Show. Go Turriff!
The show was a Sell Out:
Our lovely friends in the highlands loved our snacks so much that they sold us out of all our weekend stock on Day One. We were ecstatic with the overwhelming response. However, we admit there was mini panic when we ran out of stock. Cue our amazing farmer, Chris, who came to the rescue. He drove up from Perthshire super early Monday morning with a fresh load of snacks, ensuring that no one missed out. Phew, crisps crisis averted!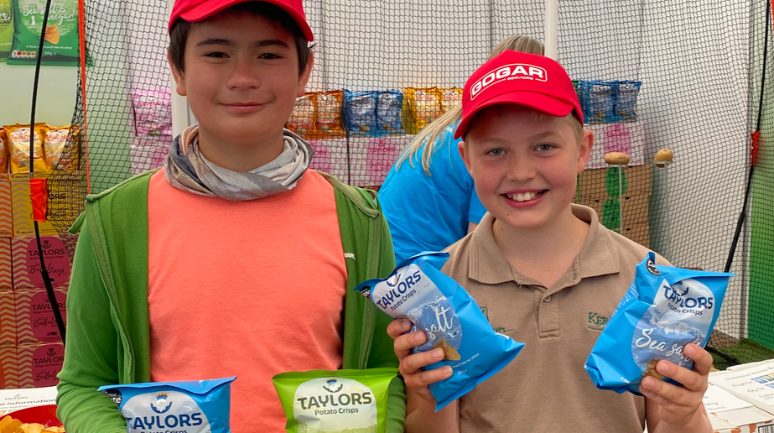 A young star in the making:
The show attracts around 24,000 people so we knew we would have a jam-packed show ahead of us. Meaning we had to recruit some young stars in the making to help us over the two-day show. We welcomed Karla Reid, for some paid work experience and she smashed it out the park.
Karla's journey with us began when she leaped at the chance to work alongside her big sister, Shelley, our Brand Manager. Karla, eager to learn and excited to dive into a new environment, embraced the opportunity to gain new skills.
During the show, Karla found herself mainly stationed at our Tattie Shy game, where the excitement was contagious. Karla said, "Starting something new can be nerve-wracking but with the warm welcome from the team my worries quickly faded away" Our seasoned team members guided Karla through her tasks ensuring she felt comfortable and confident interacting with our customs, as well an encouraging her to just have fun on the stand.
"On my lunch break I was able to explore the showgrounds, where I was introduced to new Scottish products and watched some cool cooking shows. I even managed to have a go on the waltzers with a friend I bumped into"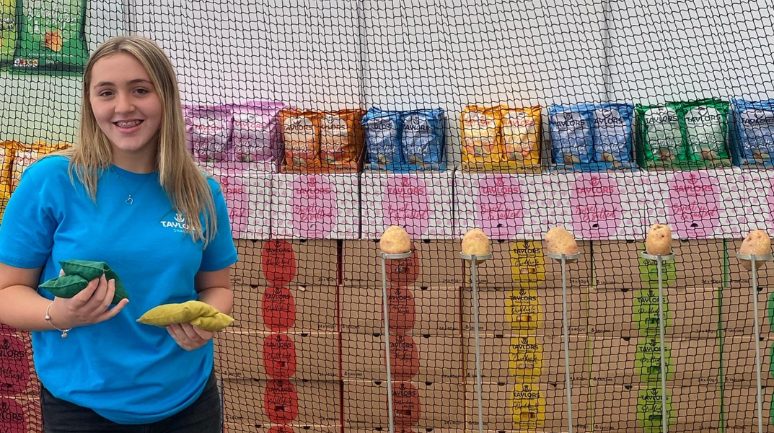 Working with Taylors was a rollercoaster of excitement and a challenge Karla wholeheartedly embraced. Reflecting on her experience, Karla expressed how much fun she had, and didn't shy away from admitting that it was fairly hard graft! To Karla, we extend a big thank you for brining your energy to the Taylors Snacks family.
The Great Return:
Overall, we can definitely say the show was an outstanding success, leaving us beaming with pride of our brand. We had an absolute blast being part of such a vibrant event.
You will for sure see us in TURRA next year, bigger and better than ever. We're already brainstorming new ideas to make our presence even more memorable, so if you have any cool ideas, get in touch.
Team Taylors 🙂