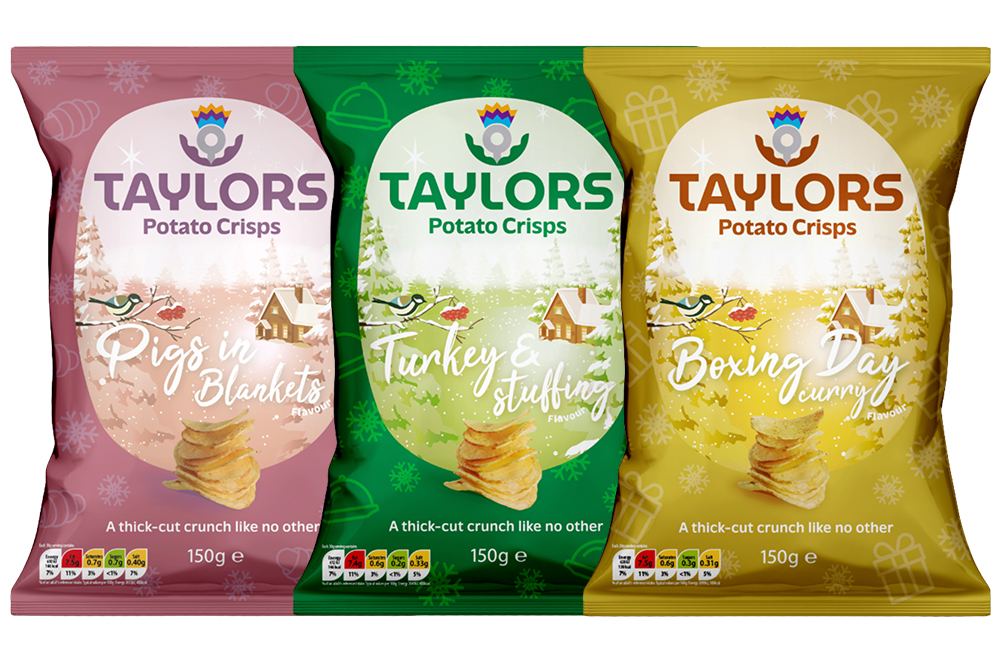 'Tis the season for Taylors: three festive crisp flavours you won't want to miss!
If you thought the inevitable approach of winter means saying goodbye to all that is bright on the horizon, think again. Our Taylors factory in Errol, Perthshire is about to go into overdrive, crafting the most delightful seasonal snacks ahead of our Christmas orders. A crispy tribute, if you will, to the very best of UK's festive flavours.
Say Hello to A Trio of Tastiness
We're thrilled to announce the upcoming release of our highly anticipated Seasonal Range of Crisps. Early November will make way for the triumphant return of:
Pigs in Blankets: A sizzling sensation in every bite, Taylors was one of the first crisps manufacturers IN THE ENTIRE WORLD to offer this scrumptious flavour. The perfect blend of savoury and slightly sweet, it's no wonder these crisps have become a Christmas holiday staple.
Boxing Day Curry: Inspired by the UK's beloved post-Christmas tradition of indulging in leftover turkey curry, this crisp flavour offers a symphony of aromatic spices. One taste and you'll be smitten.
Turkey & Stuffing: There's no need to wait for Christmas dinner to enjoy this classic combo. These crisps bring the hearty goodness of turkey and stuffing to your snack time. It's like a seasonal family dinner, sans the washing up!
A New Name, Same Great Taste
You might be wondering about the transition from the well-known Mackie's Crisps to our new avatar, Taylors Snacks. Our commitment to creating top-notch snacks has not changed. We're the same passionate crisps creators with a new look, and an even more transparent, friendlier approach.
No Ordinary Snacks
At Taylors, we believe that snacking should never be ordinary. Our flavours are anything but mundane, crafted to evoke a sense of warmth, comfort, and merriment in every bite. The kind of snacks that not only make your taste buds jig but also make you smile. Now that's what we call extraordinary!
A Toast to Tradition, with a Twist
We honour tradition, but we're not afraid to add a twist. Each of our Seasonal Range flavours is a nod to the UK's rich culinary history, jazzed up in a way only Taylors can. We're all about creating those "ah-ha!" moments of delight that keep you coming back for more.
So, make sure you're ready for the big release in November! Whether it's the comforting allure of Pigs in Blankets, the spicy intrigue of Boxing Day Curry, or the heartiness of Turkey & Stuffing, there's a flavourful journey waiting for everyone in a bag of Taylors.
Here's to a season filled with fun, laughter, and delicious snacking!
Did you know?
Taylors Snacks was one of the first crisps manufacturers to bring the 'Pigs in Blankets' flavour to the world. It's a timeless favourite that's a testament to our legacy of flavourful innovation.

Stay tuned on our website and social media channels for more updates and don't forget to share your #CrunchTime moments with us!
Savour the season, with Taylors.
Three months in and flying high: a reflection on the Taylors rebrand
Three months in and flying high: a reflection on the Taylors rebrand Just three short months ago, our Mackie's Crisps underwent a transformation as monumental as a butterfly emerging from its crisp-alis. We shed our old skin and took to the skies as Taylors, ready to bring our unique and mouthwatering snacks and flavours to […]
Read more
Pop to the top: that time we bought a popcorn factory!
Pop to the top: that time we bought a popcorn factory! Last year, Taylors Snacks embarked on an exciting journey that marked an incredible milestone in our history. We expanded our family and welcomed an own-label popcorn maker into the Taylors' fold. This wasn't just a business acquisition – it was an affirmation of our […]
Read more