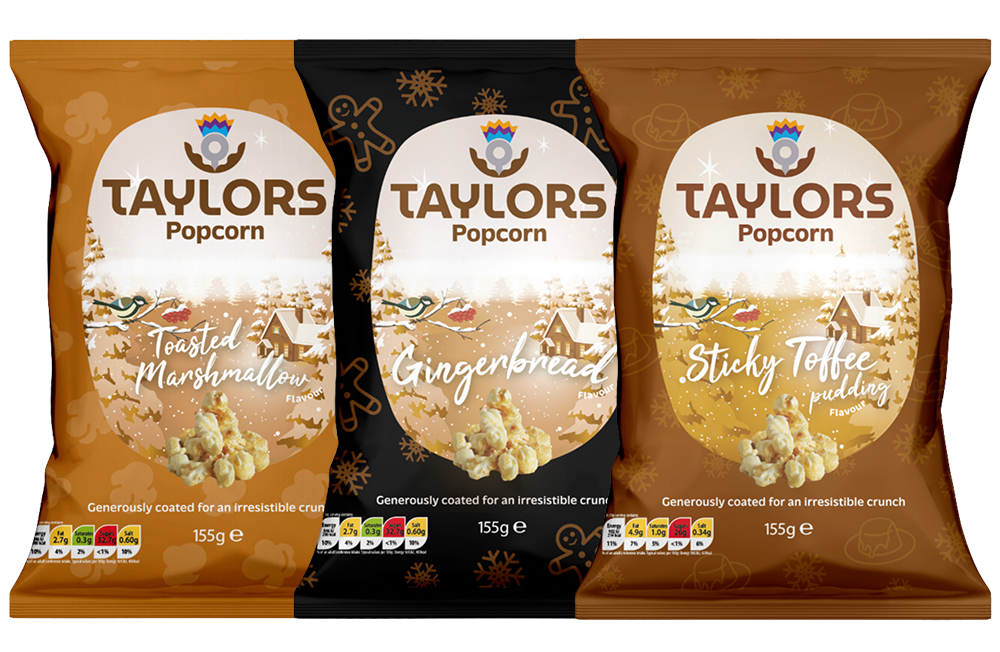 Pop into festive fun with Taylors: our special seasonal popcorn flavours!
Brace yourself for a burst of excitement this coming winter! At Taylors, we've already started stirring up some festive fun in our factory, to make sure we're on time to serve you all the best snacking treats this coming Christmas season.
Welcoming Our Festive Popcorn Heroes
As the chilly winds of November eventually roll in, we're ready to warm your hearts (and taste buds) with the return of our Seasonal Popcorn Range. Here are the stars of the show:
Gingerbread: Ah, the cosy charm of gingerbread! Each popcorn kernel is coated with a sprinkle of spice and all things nice, promising a treat that's as warming as a snug winter blanket.
Sticky Toffee Pudding: Imagine the richness of a gooey toffee pudding transformed into a popcorn snack. That's our Sticky Toffee Pudding popcorn for you, oozing with indulgence in every crunch.
Toasted Marshmallow: Capture the magic of toasting marshmallows over a crackling bonfire right in your popcorn bowl. This flavour offers a comforting sweetness that'll have you coming back for more.
From Mackie's to Taylors: A New Chapter
If you remember enjoying these flavours under Mackie's, you're in for a treat! While we've freshened up our look as Taylors Snacks, our dedication to creating top-class snacks remains the same.
Snacks That Spark Joy
We believe that snacks shouldn't be just about filling your tummy. At Taylors, every bite is a celebration of flavour that leaves you smiling. We're not just creating popcorn – we're crafting happiness!
Tradition Meets Innovation
Our Seasonal Popcorn Range brings together the familiar joy of traditional festive treats and the thrill of trying something new. It's a journey of flavours that stay true to our heritage while embracing our playful spirit.
So, mark your calendars for November and get ready to welcome back your favourite flavours! Whether it's the comforting spice of Gingerbread, the rich indulgence of Sticky Toffee Pudding, or the cosy sweetness of Toasted Marshmallow, there's something for everyone in our festive popcorn lineup.
And until then, remember to live, laugh, love and snack on!
Taylors Snacks continues to uphold the tradition of serving festive popcorn flavours previously known under the Mackie's brand. As our saying goes, "new bag, same great popcorn!"

Follow us on our website and social media for all the latest updates. Don't forget to share your #CrunchTime moments with us!
Pop into the season, with Taylors.
Three months in and flying high: a reflection on the Taylors rebrand
Three months in and flying high: a reflection on the Taylors rebrand Just three short months ago, our Mackie's Crisps underwent a transformation as monumental as a butterfly emerging from its crisp-alis. We shed our old skin and took to the skies as Taylors, ready to bring our unique and mouthwatering snacks and flavours to […]
Read more
Pop to the top: that time we bought a popcorn factory!
Pop to the top: that time we bought a popcorn factory! Last year, Taylors Snacks embarked on an exciting journey that marked an incredible milestone in our history. We expanded our family and welcomed an own-label popcorn maker into the Taylors' fold. This wasn't just a business acquisition – it was an affirmation of our […]
Read more