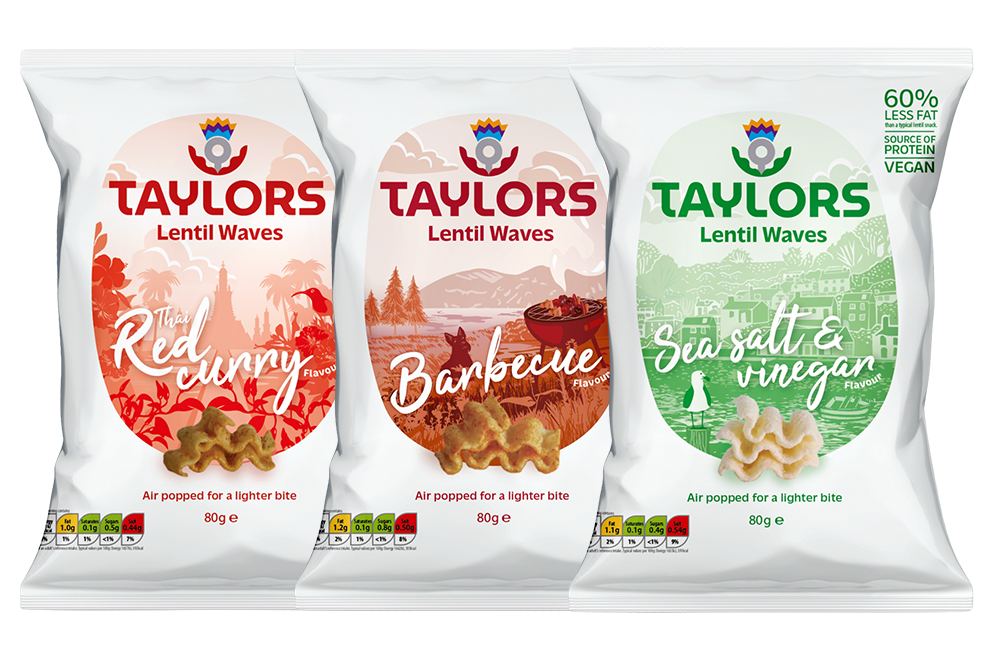 Better for you, better for your taste buds: the Taylors journey into healthier snacking
As a tasty snack brand, we've always been about one thing: flavour. The unique crunch of our crisps, the cheerful pop of our popcorn – we've always loved delighting your taste buds. However, in recent times, we've begun a new journey towards providing better-for-you snacking options. We're excited to share more about our strides into healthier snacks, a delicious trip that started with our fabulously tasty Lentil Waves…
At Taylors, we're never satisfied just sticking to the beaten path. We constantly challenge ourselves, asking: how can we make snack time even more enjoyable for snack-loving families everywhere? The answer came in the form of a healthier alternative to the classic crisp – the Lentil Wave.
While we're known for our delightfully crunchy crisps, we noticed the need for a healthier alternative that didn't compromise on flavour. After all, why should choosing a healthier option mean saying goodbye to taste? It shouldn't, and that's where our Lentil Waves come in.
Our Lentil Waves are a prime example of Taylors' commitment to the lighter side of life. These wavy, crispy, and packed-with-flavour treats are made from lentils, offering up to 60% less fat than similar lentil-based products. That's right, all the crunch and taste of Taylors, now in a healthier package!
But how do we maintain the flavour punch Taylors is known for in a healthier snack? Well, that's our little secret! Each Lentil Wave is gently cooked to perfection and its unique shape dusted with our blend of seasonings, to provide that punchy, addictive Taylors taste you know and love.
By introducing Lentil Waves, we're not only offering a healthier snack option, but we're also inviting our fans to be a part of our journey towards more responsible snacking. We believe in balance; the joy of indulgence matched with the importance of healthier options.
We're proud of our journey so far and are excited about what lies ahead. Because at Taylors, we know that 'better for you' does not mean 'boring'. It means innovating, tasting, testing, and discovering new ways to bring joy to your snack time, without the guilt. So why not try our Lentil Waves today?
Remember, you can follow us on TikTok, Facebook, Instagram, and Twitter for updates on our latest products, exciting offers, and behind-the-scenes peeks into the world of Taylors Snacks.
Stay tuned, snack lovers! We've got so much more coming your way. Because when it comes to creating snacks that are better for you, the fun is just getting started!
Three months in and flying high: a reflection on the Taylors rebrand
Three months in and flying high: a reflection on the Taylors rebrand Just three short months ago, our Mackie's Crisps underwent a transformation as monumental as a butterfly emerging from its crisp-alis. We shed our old skin and took to the skies as Taylors, ready to bring our unique and mouthwatering snacks and flavours to […]
Read more
Pop to the top: that time we bought a popcorn factory!
Pop to the top: that time we bought a popcorn factory! Last year, Taylors Snacks embarked on an exciting journey that marked an incredible milestone in our history. We expanded our family and welcomed an own-label popcorn maker into the Taylors' fold. This wasn't just a business acquisition – it was an affirmation of our […]
Read more